UPDATED! Scroll to the end for new experimental first-person games.
The first-person shooter is easily the most popular video game genre in North America. Just look at how many copies
Black Ops 2
and
Halo 4
sold (or any of the other gazillion popular FPS series). While I've played and enjoyed some of these games, I can't help but feel that there is a lack of innovation in popular first-person games. Here's a quick list of experimental first-person games that I find particularly interesting or innovative.
Might as well get the big ones out of the way first.
Minecraft
took the world by storm with its awesome block-based gameplay. It's one of the most fun games of recent years and is definitely worth checking out, no matter your taste in video games.
Portal
is another instant classic. Play it! Although not as popular as
Minecraft
or
Portal,
Slender
is still relatively popular, considering it was an unfinished game made by one person to practice programming. It's free, so if you're in the mood for a good scare, download
Slender.
Antichamber
is described as "a mind-bending psychological exploration game where nothing can be taken for granted". From playing the demo, I can confirm that the description is accurate. Space isn't consistent and puzzles often have weird (but cool) think-outside-of-the-box solutions. Oh yeah, and cool metaphors a plenty. It's a little expensive, which is why I've held out on buying the full version, but it'll surely be up on a Steam sale soon enough. Definitely an intriguing game.
Antechamber (image from venturebeat.files.wordpress.com)
Activate the Three Artefacts Then Leave (image from rockpapershotgun.com)
When I read that MIT had made a game about the speed of light, I had to check it out.
A Slower Speed of Light
presents how the speed of light distorts vision. It's short, free, informative and awesome.
A Slower Speed of Light (image from gizmag.com)
Proteus
is an experimental exploration-based game. By exploration-based, I really mean that the game relies almost exclusively on exploration to deliver its audiovisual experience. I liked the "game"; it made me smile.
Proteus (image from visitproteus.com)
Experimental Story-Based First-Person Games
The Unfinished Swan
is a PS3-exclusive downloadable game. I enjoyed it a lot more than I thought I would. The primary mechanic is that you throw ink blots to navigate a completely white environment. It's really cool. I was surprised that new mechanics are introduced throughout the game, and I'm convinced that one of the cooler late-game mechanics deserves a game of its own. Despite favorable reviews and numerous awards, the game seems to have flown in under the radar. I bought it partly because it was on sale, but now that I've played and enjoyed it, I can say that it would have been well worth the normal price.
The Unfinished Swan (image from pixeljumpers.com)
Dear Esther
is a relatively popular narrative-heavy first-person game. While the game does a few really cool things, I wasn't a huge fan when I finished it for the first time. The graphics and environments are really good and the story is told through a semi-random set of narration clips.
Dear Esther (image from Steam)
Thirty Flights of Loving
is a crazy first-person adventure of crime, love, betrayal, and much more. Set in the quirky
Citizen Abel
universe, you play as a smuggler during an alcohol prohibition. I could go on, but I'll stop praising the game since I've already written an article about its artistic merits. The prequel to this game,
Gravity Bone, is good (and free! Link at the bottom of this page:

http://blendogames.com/

)
Thirty Flights of Loving
Fibrillation
is a "first person philosophic horror with elements of mysticism". I liked the game's narrative and what it did with symbolism and imagery. There are much worse ways of spending two bucks.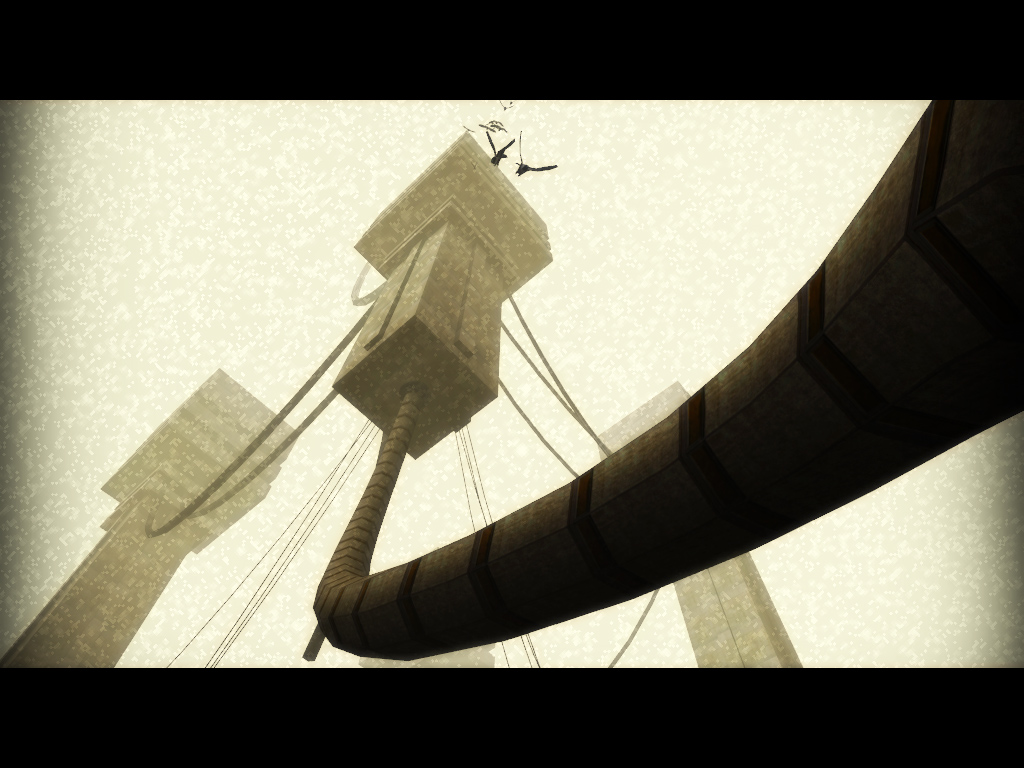 Fibrillation (image from moddb.com)
Here's a game that isn't dreary. While it's not experimental in the same way that the aforementioned games are, I feel like mentioning
DutyCalls
. A "promotional" game by EA,
Duty Calls
is a shameless parody of
Call of Duty. One of the funnies games I've ever played. It's video game satire, a side of video games that I've been interested in for a while. Future blog post perhaps?

Duty Calls (image from newbreview.com)
UPDATE! Here's some newer experimental first-person games.
Gone Home
is an experimental first-person exploration game. People looking for a strong, realistic narrative should definitely play this game. It's really something special, trust me.
Against the Wall
is an odd puzzle-platformer-thingy. The game world consists of a huge wall up which you climb by pulling out pieces with the RMB. Interesting concept. You can ty the alpha for free
here
.
Image from games.softpedia.com